21 Duel Blackjack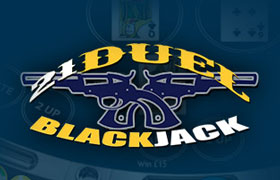 21 Duel Blackjack is the updated, fast paced version of the classical table card game Blackjack. Players will enjoy the game even more with the added extra of a side bet and the option to play multiple hands. Two community cards will be dealt in the middle for the player and the dealer to make use of.
The aim of the game is to get as close to 21 as possible without exceeding it and at the same time trying to beat the dealers hand. The Aces count as either 1 or 11, the face cards count as 10, and the number cards are at their face value.
If the total of a players cards are closer to 21 than the dealers, then the player wins. If the total of a players cards match the dealers cards, then it is a tie and the player will receive his bet back. Should a players' cards exceed 21 then it is a 'Bust' and the bet is lost. This game also gives players the option to place a side bet, which only counts for the first two cards and the community cards. If a player happens to have a pair amongst these cards then he will be paid out 3 to 1. Three of a kind will reward a player with a payout of 20 to 1.
21 Duel Blackjack also allows players the option to play 'Multiple' hands which means up to five hands can be played simultaneously.
Play At: Silversands Casino, Jackpot Cash.