Spanish 21 Blackjack

Spanish 21 Blackjack is brought to you by Microgaming, it is played with 8 decks of cards. These aren't your usual decks of cards as the 10's are removed from the deck leaving 48 cards in each deck. The other cards that count as 10 include the King, Queen and the Jack are still in the decks, only the actual card with the number 10 on them are removed.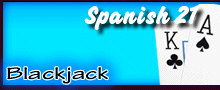 Rules
- Aces can be re-split.
- You can split a maximum of 3 times giving you 4 hands.
- Dealer must hit on soft 17.
- The players Blackjack always beats the dealers Blackjack.
- Players 21 always beats the dealers 21.
- Players are allowed to surrender, you can surrender a bad hand by forfeiting half your bet instead of losing your entire bet.
- Players can double down on any number of cards. Players can also re-double down.
- Players may surrender after doubling. If your double down does not work out you may surrender your original bet instead of risking the loss of your doubled bet.

Payouts
- A 5 card 21 pays out 3:2
- A 6 card 21 pays out 2:1
- A 7 or more card 21 pays out 3:1
- If you get 6-7-8 or 7-7-7 mixed suit it pays out 3:2
- If you get 6-7-8 or 7-7-7 of same suit it pays out 2:1
- If you get 6-7-8 or 7-7-7 of spades it pays out 3:1
- If you get 7-7-7 of the same suit when the dealer has 7 face up pays out 50:1

Play At: Blackjack Ballroom