Online Blackjack Features
Playing blackjack online can be as exciting as in a typical real world casino, and you can actually win decent prizes without having to leave your home or office.
Online blackjack basics
The game of blackjack is just a popular in online gambling as it is in land based casinos.  The basics of this game haven't changed even with the transition to the virtual world, as different software platforms flawlessly emulate the basic mechanics of the game.  It is the simplicity and the ease of learning the basics of the game in a couple of minutes that make Blackjack so attractive. 
Blackjack features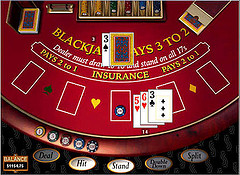 The rules to Blackjack are quite simple, and as mentioned before, will only take a couple of minutes to learn.  Players have a target card value of 21 that has to be achieved but not exceeded.  All the gameplay revolves around the decisions players make in order to beat the combination of the dealer.  There are some variations as to what options the player has when making a decision outside the standard "Stand of Hit" pair.  It is more about the blackjack software that is being used than the rules and visual appearance of the game.  Gamblers can play a session for beginners, just to have fun without depositing anything, or they can install veteran software and enjoy gambling just as they would in a typical casino.  There are many options on the internet for players to choose from that will suit their individual preferences.
Mobile blackjack
A fairly recent trend in the world of online gambling, and Blackjack in particular is mobile gaming.  The spread of mobile devices such as the smart phones and tablets, allow many gamblers to use their fast mobile Internet connection to enjoy playing virtually everywhere.  The operating systems of these devices are not that well suited for running sophisticated gambling software or providing enhanced graphics.  For this reason, many Blackjack software developers and online casinos have shifted to providing players with optimized versions of their games.  Players will find many downloadable applications and online casinos which are optimized for mobile devices which give players the option to play Blackjack on their phone or tablet.  This is an exciting feature as players can win prizes just as they would when playing on their computer. 
Live blackjack
Since Blackjack is a game that is played with a dealer, it has become part of another recent trend in the online casino world.  There is now a real dealer who takes bets and interacts with players over the internet via a live stream.  This gives players the feeling of being in a real land based casino.  The increasing popularity of this new feature is definitely an indication that this is the future of online gambling.
Play Online Blackjack at the Following Online Casinos: